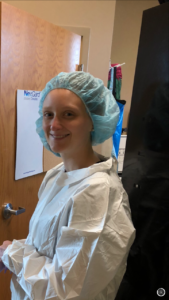 My name is Hannah and I've been working at FPS for about a year and a half. I've loved animals my entire life and I feel like caring for them and helping to make them better is my calling in life. I love learning what medications help what ailments and in what animals. I also like learning about nutrition, hematology and phlebotomy.
I'm a home body and an introvert, and what I enjoy the most is a night in with my dogs. Other than animals, genealogy is another big interest of mine. I am very family oriented and will do anything for my family or friends.
I have two dogs, Lily who is about three, and Odin, who is a year. I have a grandma kitty named Isabel. She's 18 years old! A beta fish and a beautiful ball python named Khaleesi. I have no kids yet, so as of right now, they are my babies!
My favorite food in Mexican, especially tacos and fajitas with extra avocados! I love everything chocolate and raspberry. My favorite place to go is TJMaxx.
We have a great clinic and you can rest assured that your pet will be taken care of like they are our own!